About "Victor Babes" Private Medical Clinic
Your health is our goal !
Aware of the fact that health is not everything, but everything without health is nothing, we have a sanogenic vision - we promote a culture of health. We offer to any person, regardless of age and occupation, general and specialized clinical examinations, general and specialized laboratory investigations for disease prevention, promotion of health, etiological diagnosis, conducting to appropriate therapeutic attitude.
The care provided by "Victor Babes" Private Medical Clinic has the final goal to address the patient's medical problems to their complete remission and to provide a maximal comfort for improving the patient's quality of life through an accurate early diagnosis and the most specific possible treatment.

"Dr. Victor Babes" Foundation Founding President,
Prof. Dr. Petre Iacob CALISTRU
---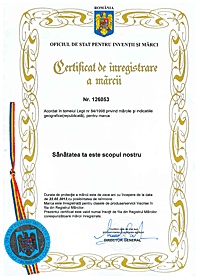 "Your health is our goal" Certificate from State Office for Inventions and Trademarks
---
---
---
Info about "Victor Babes" Private Medical Clinic :